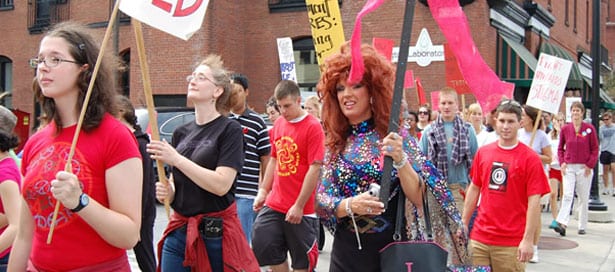 We all define community in our lives from very different perspectives. Some of these communities have been made up of family members and friends. Our communities could have also meant a geographical place where we grew up or lived, or a very socially connected group that worked on a project together. Others have been created or supported through our shared sense of a common vision or goal. Furthermore, with advances in technology, our communities have grown to include those we may have never personally met, but that we feel connected to based on shared experiences and feelings of support and interdependency.
Overall, though, the communities that we have been a part of have often provided us with some level of shared responsibility or accountability, increased feelings of well being and emotional health, and a commitment to something that was larger than the group of individuals. Hence, Vermont CARES recognizes and values the importance of connection and has a long term goal of creating and sustaining a strong sense of community and connection where we work and live, regardless of HIV status.
Below is a list of some resources that those we work with have asked about recently. We'll continue to update this list as we learn about or create other community-building projects. Please let us know of additional communities and activities that you would like to see added here.
ADVOCACY
Celebrating and educating LGBTQ Vermonters.
SafeSpace – visit website
Support for LGBTQ survivors of violence.
Twin States Network – visit website
Provides programs that in education, advocacy and peer support to those living with HIV/AIDS and/or Hepatitis C.
Vermont HIV/AIDS Community Advisory Group (Vermont CAG) – visit website
The Vermont CAG is a group of concerned community members who examine Vermont's HIV prevention and HIV/AIDS service needs on an ongoing basis. The group is made up of consumers, service providers, and advocates.
Please contact a staff member from the Vermont Department of Health's HIV/AIDS, STD, Hepatitis Program (1-800-882-2437) for more information on becoming a member. Full application to join the CAG is at this link.
Vermont People Living with AIDS Coalition – visit website
The Vermont People With AIDS Coalition is available to help you quickly locate the services and information you need and to put you in touch with the people who provide them.
SOCIAL ACTIVITIES
Chiltern Mountain Club
New England's largest Gay and Lesbian Outdoor Club.
Fairie Camp Destiny
Cultural center and spiritual oasis for Radical Faeries.
Gay Outdoors
A website for connecting with other LGBTQ folks who are interested in outdoor activites.
Vermont Gay Social Alternatives
LGBTQ Community in Northern VT.
VermontCARES Socials
We hold monthly gatherings in Burlington, Montpelier, St. Johnsbury, and Rutland for HIV+ individuals. These gatherings are great opportunities to meet others who are HIV+ and to share stories and resources. Please contact us to find out when they are being held or see our calendar.
ADDITIONAL RESOURCES